Acne Free in 3 Days Review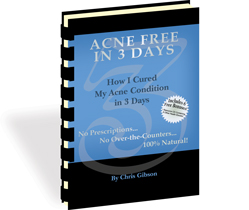 Product Reviewed: Acne Free in 3 Days
Rating: 2 stars

Acne Free in Three Days is written by Chris Gibson a professional internet marketer who has promoted lots of different products. Acne Free in Three Days is promoted both in e-book and hard copy. This is the latest in a long line of Chris Gibson internet sales businesses. Chris is a businessman and not a health care professional. His conclusions in this book are not original with the exception of his claim that his recommended cure will work in three days.
The system that Gibson prescribes for curing acne is basically an apple diet combined with enemas. The regiment is based in the theory that a detoxification diet will cleanse the colon eliminating the cause of acne. The theory of detoxification helping to solve acne outbreaks is sound however Chris' idea that this can be done in three days is nonsense. A detoxification diet must be followed for months or years to cure acne permanently.
Chris Gibson's Acne Free in Three Days has a satisfaction or money back guarantee Many reviewers have not been happy with the product after purchasing it. Most distressing is the large numbers of these reviewers who claim they were unhappy with Acne Free in Three Days and requested a refund, numerous times, and did not get any response let alone a refund.
Many purchasers of Acne Free in Three Days complain that Chris Gibson's recommended regiment is impossible to follow.  Gibson basically recommends eating nothing for three days but peeled red delicious or golden apples and to drink only water except on the third day when you can have three ounces of grape juice. In addition the regiment requires rubbing caster oil into your skin every night and doing an enema at the end of each day and taking a dose of olive oil on the third day. That is a pretty limited diet. Some who were able to follow Gibson's strict guidelines reported less inflammation and fewer new pimples after three days. However some reported their acne worsened during the treatment and others complained that their acne came back with a vengeance after the three day diet and enemas.
I would not be comfortable recommending that you try this product based on the sheer numbers of unhappy purchasers. And most importantly I would not recommend you purchase Acne Free in Three Days because Chris Gibson apparently is not honoring his satisfaction or money back guarantee. If the acne cure Chris is promoting is not a scam the guarantee certainly appears to be.
I would strongly recommend you check out one of the the 3 following products that have positive reviews and proven results as a alternative to Acne Free in 3 Days.
CLICK ON A PHOTO BELOW FOR MORE INFO
or
Click Here To Read Our Reviews On Other Natural Acne Products